How we work 
There are three strands to the Observatory's model, all of which are vital in the pursuit of racial equity in health for patients and workers. At every stage of out operating model, we include the voices of people with lived experience of racism and discrimination to ensure that the work we do meets the needs of the people it is designed to help and empower.  
1.Research – We are committed to drawing upon the best quality evidence about racial and ethnic inequality in health. This means not only commissioning original research to fill knowledge gaps, but also synthesising and mobilising existing evidence. We want to put evidence in the hands of the people who can use it, whether that be policymakers, healthcare professionals, commissioners, members of the public, or service users. We make evidence accessible through the creation of tools and digital resources, meaning the evidence can be tailored and adapted according to need. 
2. Influence – We use the evidence we commission and mobilise to influence leaders through practical recommendations for policy and practice. This means translating complex research into succinct briefings; working collaboratively with government, the NHS, and arms' length bodies to ensure that policymaking is informed by an understanding of race and racism; and working alongside other research organisations to focus greater resource on understanding why and where racial inequalities exist. Our recommendations are targeted and actionable, applicable at every level from. 
3. Implementation – On the basis of our recommendations, and in response to the needs of the communities we work with, we work to support the implementation of new policies and practice at the grassroots. We fund and lead innovative anti-racist improvement and implementation practices and are committed to working in partnership with healthcare systems and providers. Our approach to implementation is the result of iterative co-design and is constantly tested and challenged to ensure its having the intended impact.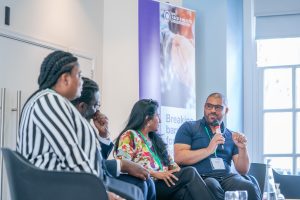 Our Approach to Commissioning 
A core part of operating model involves commissioning research from external organisations, enabling us to always involve the appropriate expertise best people possible in the work we do and to ensure high quality outputs that represent good value for money for taxpayers. We will do so openly and transparently, making every effort to procure work from a diverse range of organisations. 
In practice, this means involving lived experience at every stage of our commissioning process:  
Before commissioning work, we identify our research priorities by drawing on the intelligence of diverse specialist

advisory groups

, engaging with a diverse range of community groups, and drawing on the expertise of external individuals and organisations. 

 

When we tender for research, we co-design the project brief with our

advisory groups

and advertise the opportunities as broadly as possible, using social media and targeted circulation to ensure that underserved groups are aware of the opportunities. 

 
We make genuine community participation and validation a fundamental prerequisite of all of our research commissions. 

 

When we shortlist and interview prospective research organisations, we ensure that we have diverse panels that include people with lived experience relevant to the project at hand.  

 

Before we finalise research outputs, we ensure that all conclusions and recommendations are validated by people with relevant lived experience.